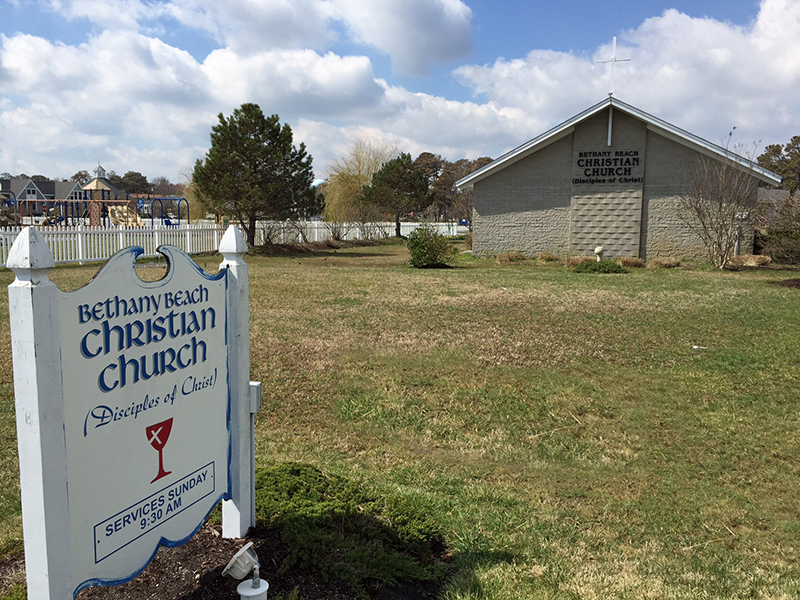 About
The Bethany Beach Christian Church and Conference Center is part of the ministry of the Christian Church - Capital Area, which serves congregations in Maryland, the District of Columbia, Northern Virginia, Delaware, and West Virginia. If you'd like to know more about the Capital Area Christian Church (CACC), visit their website.
Bethany Beach was established as a site for "camp meetings" and was soon influenced by the Chautauqua movement (an early 20th-century conference process that moved from location to location, beginning in New England, and which is an Native American name meaning "conference"). The first chapel service was held on July 21, 1901, in an octagonal building soon to be known as the "Tabernacle". The original Tabernacle, which is depicted on the Seal of the Town of Bethany Beach, was razed in 1961. The Tabernacle is now a lovely dining hall, dedicated in July 2001 to coincide with the centennial of the Conference Center and the Town. The present chapel was erected in 1963, and the year-round congregation began in October of 1998.
As it has for over a century, the Conference Center serves Disciples and others as a site for Christian education and congregational retreats. The year-round church provides religious services for residents of the town and surrounding areas, as well as seasonal visitors. We welcome you to worship with us. The rite of communion is central to our worship and is offered every Sunday, without restriction, to all who attend.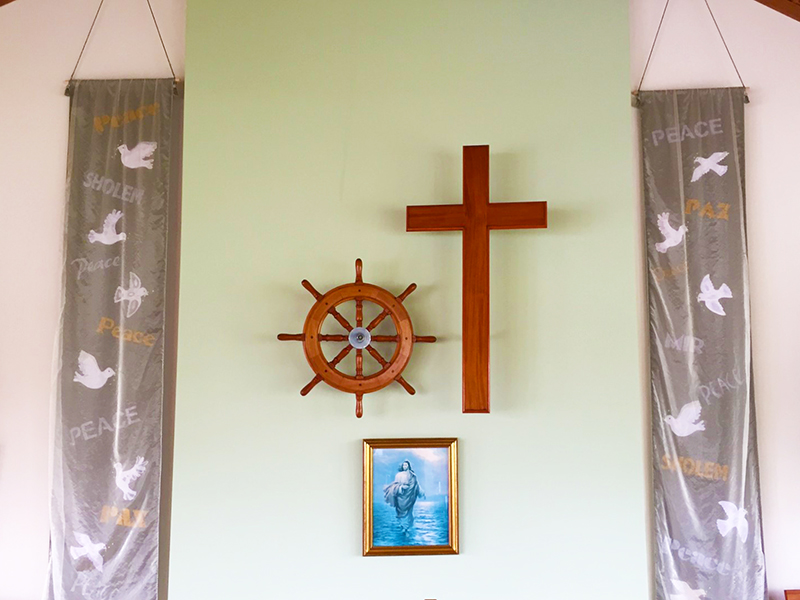 The Ship's Wheel
One of the unique designs at Bethany Beach Christian Church is the ship's wheel hanging next to the cross in the front of the sanctuary. The fact that we are here facing the ocean would be the normal assumption for its significance. However, the ship's wheel holds a deeper meaning. The church building sits on the grounds of the Camp and Conference Center, where our youth attend camp annually. In 1956, one of the campers drowned during camp, and this ship's wheel hangs here in his memory. The importance of this symbol represents the faith and belief of Disciples - that all are welcomed. Because we had African-American children at camp, our campers were prevented from swimming at the public beach, where there were trained lifeguards. Therefore, all the campers went up the beach to swim as a group. Unfortunately, a rip tide formed and took Keith Cook's life. While the staff tried to save everyone caught in the rip, they were unable to reach Keith, and his body was recovered two weeks later by the Coast Guard. The campers, his family, and his home church donated the money to have this wheel hung here in our church, to guide us all home.