Welcome
Welcome to Bethany Beach Christian Church. We invite you to join us for worship at 9:30 AM on any Sunday throughout the year. Dress is casual. Whether you are a local resident or simply visiting in the Bethany Beach area, we hope you will come visit us.
For those looking for a place to enhance your faith journey, we encourage you to join us. We are a place of diversity and hospitality and a congregation of different points of view, which give us the opportunity to learn from one another. Bethany Beach Christian Church is a small and friendly church that invites you to join us in celebrating the Word of God. Our pastor bases his sermons on particular scriptures and gives guidance on how to incorporate them in our daily lives.
Serving • Inclusive • Open-Minded • Open Communion
Location:
7 N. Pennsylvania Ave. (Building #7)
Bethany Beach, DE 19930
On the grounds of the Bethany Beach Conference Center
(next to the playground)
Service Time: 9:30 AM
Mailing Address:
P.O. Box 1484
Bethany Beach, DE 19930
Minister: Pastor Rich Plocinski
News & Events
Watch Our Services Online
Bethany Beach Christian Church has been posting its services online, on our YouTube channel - videos will be available every week at the normal start time of 9:30am. Join. . .
Food Donations
Help us support our local food pantries. Donations of canned and packaged food may be dropped off at church on Tuesday from 9 to noon.
Disciples History Class
PastorRich has started a weekly class on Disciples of Christ history. You may join the class on Wednesday at church, with social distancing, at 10 am or on ZOOM on Thursday at. . .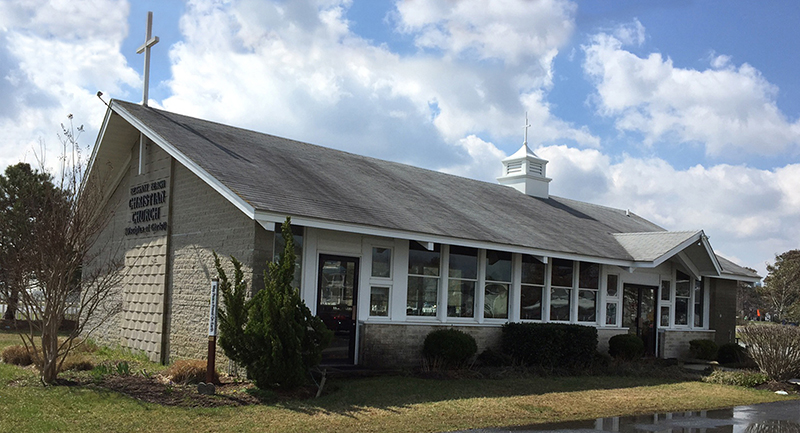 Mission Statement
This congregation is a loving faith community which strives to demonstrate its faith values by deeds more than by words. As God is all-embracing, we value all worshipers in the hope that each person's spiritual journey can flourish from individual faith into communal compassion and action.
Sermons

View recent sermons:
05/31/20 · 05/24/20 · 05/10/20
05/03/20 · 04/26/20 · 04/19/20
04/12/20 · 04/05/20 · 03/29/20
Meet the Minister
Pastor Rich Plocinski is our new minister, and his bio will be coming soon!